Create what you need.
join the ecosystem
access technology
be supported by peers & experts
reach your translational goals
LOOK INSIDE THE ECOSYSTEM
Creative freedom over critical aspects of biology
modelling muscle contraction
micro­patterning an immuno-oncology model
protecting viability & integrity of stem cells
creating a perfusable blood-brain barrier model
modelling muscle contraction
Aberrant muscle contraction plays a critical role in the pathology of a wide range of diseases. The development of fully functional muscle tissue through the precise alignment of cells is critical to advancing the understanding and treatment of such pathologies.
Research Highlight:
Dr. Adrian West, at the University of Manitoba, bioprints rings of myoblasts at high cell density in a highly customized soft tissue-like matrix. Cells differentiate into myotubes, with orientation guided by the 3D bioprinted fibres. By printing multiple cell-laden materials within a single experiment, Dr. West is uncovering the effects of ECM components, stiffness, fibroblast density, and other factors on the contraction of skeletal, cardiac, and smooth muscle tissue.
micro­patterning an immuno-oncology model
The tumour microenvironment (TME) consists of a heterogeneous population of cancer cells, stromal cells, and infiltrating immune cells. The cellular interaction within the microenvironment changes over time and profoundly influences tumour progression and therapeutic outcomes. A 3D model that accurately reflects the tumour microenvironment and its spatial complexity will aid in the development of effective therapeutics.
Research Highlight:
Researchers at McGill University are using the RX1™ Bioprinter to create an immuno-oncology model that can be used to uncover the mechanisms behind the complex TME and can be used to develop targeted therapeutics. Seamless switching between the cell-laden materials and coaxial flow focusing come together to ensure that small volumes of precious patient-derived tumour cells maintain viability during printing. The accuracy of microfluidic 3D bioprinting is crucial to patterning specific regions of tumour, stromal, and immune cells to mimic the TME with nanolitre precision.
protecting viability & integrity of stem cells
Most neurodegenerative diseases and disorders, including spinal cord injury, still lack adequate cures. Bioprinted neural tissue that mimics the complex pathophysiology and functionality found in vivo can serve as a tool for screening promising drug candidates, as well as provide insights into the development of cell therapies for treating disorders such as spinal cord injury.
Research Highlight:
Dr. Stephanie Willerth's team at the University of Victoria combines tissue engineering and stem cell biology to address this need. Human induced pluripotent stem cell (hiPSC)-derived neural progenitor cells (NPCs) are a favourable choice because they have the capacity to differentiate into mature phenotypes. However, these cells are particularly sensitive to cues from their surroundings. With coaxial flow focusing and on-printhead crosslinking, cells are protected from shear stress, thus maintaining high viability and their capacity to differentiate. Upon exposure to small molecules, NPC's within printed constructs aggregate and differentiate into motor neurons.
creating a perfusable blood-brain barrier model
The blood-brain barrier (BBB) protects the brain from toxins and pathogens, but can also prevent therapeutics from reaching their targets. Current models of the BBB are 2D and fall short when it comes to mimicking the microenvironment and blood flow found in the brain. A 3D model that more accurately reproduces the architecture of the BBB would enable a better understanding of the interactions that occur between the barrier and therapeutics.
Research Highlight:
Researchers at the National Research Council of Canada (NRC) are using the RX1™ Bioprinter to print human induced pluripotent stem cell (hiPSC)-derived brain endothelial cells (BECs), neurons, astrocytes, and pericytes into multilayer hollow perfusable fibres. The 3D bioprinted structures can be connected to a microfluidic device and perfused to provide the necessary flow and nutrient supply to allow for optimal barrier formation. The BBB model could be used in serially-linked units to multiplex evaluation in therapeutic discovery and preclinical testing.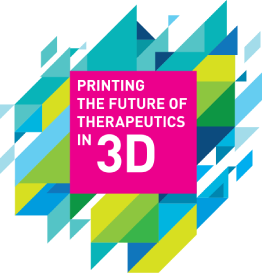 4th Annual Printing the Future of Therapeutics in 3D
Vancouver, BC - postponed until further notice
We are proud to co-host the PFT3D Symposium with the School of Biomedical Engineering at the University of British Columbia. The goal of this event is to facilitate discussion and foster interdisciplinary collaboration on the development of commercially and clinically relevant life-saving tissues.
Learn More