Tamer Mohamed, President & CEO of Aspect Biosystems, in presenting on "Bioprinting Cell Therapies as Medicines of the Future" at Advanced Therapies Week to be held January 25-28, 2022 in Miami, FL.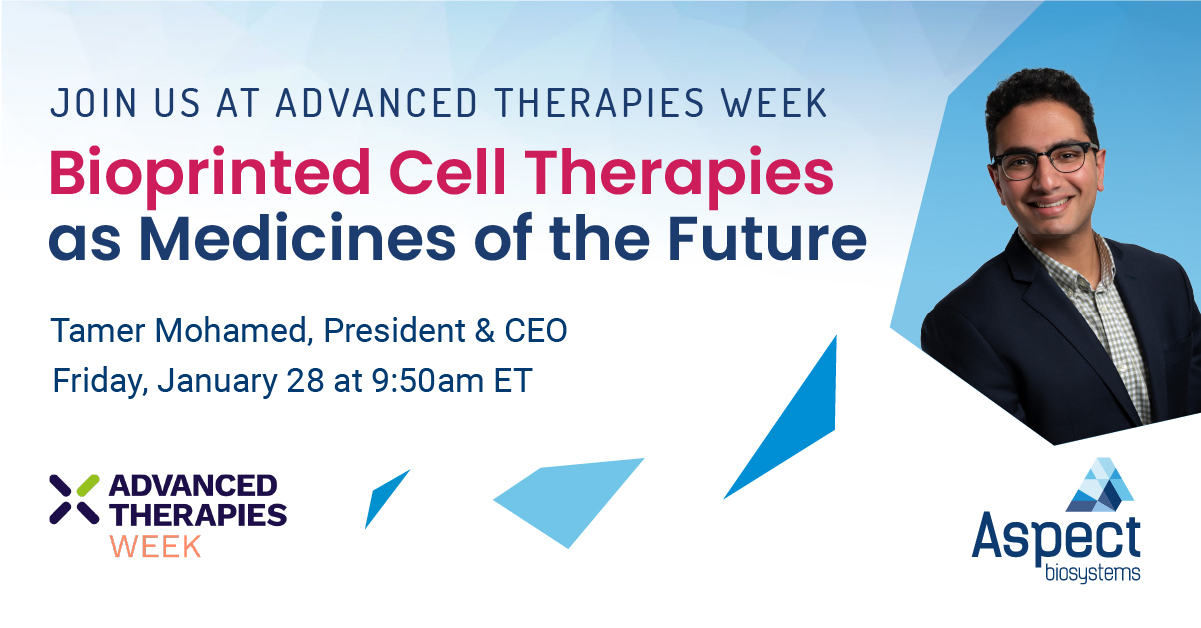 The following are specific details regarding Aspect Biosystems' presentation at 2022 Advanced Therapies Week:
Session
Changing the Cell Therapy Landscape with In-Vivo Therapies: Is this a Viable Alternative for Point of Care Therapeutics?
Presentation
Bioprinted Cell Therapies as Medicines of the Future

Cells, tissues, and organ systems created in the lab will become the next generation of therapeutics
Implantable, living tissues are created by combining 3D printing, material science, and biology
These living tissues, referred to as 'bioprinted cell therapies', are rationally designed to replace or repair damaged biological function

Presenter
Tamer Mohamed, President & CEO, Aspect Biosystems
Date
Friday, January 28, 2022
Time
9:50-10:05am ET (in-person)
Organized by Phacilitate, Advanced Therapies Week brings the global advanced therapies community together for the most important week for doing business in advanced therapies. Home to the largest marketplace for tools and tech, Advanced Therapies Week is dedicated to helping biotech progress on their commercialisation journey, as well as pushing the industry one step closer to delivering life changing treatments to patients.
About Aspect Biosystems
Aspect Biosystems is a biotechnology company pioneering the development of bioprinted cell therapies as medicines of the future. Aspect is applying its microfluidic 3D bioprinting technology internally to develop these advanced cell therapies and partnering with leading researchers and industry innovators worldwide to tackle the biggest challenges in regenerative medicine. Learn more at www.aspectbiosystems.com.
Contact
Natalie Korenic
Aspect Biosystems
+1-604-263-0502
media@aspectbiosystems.com
Back to all